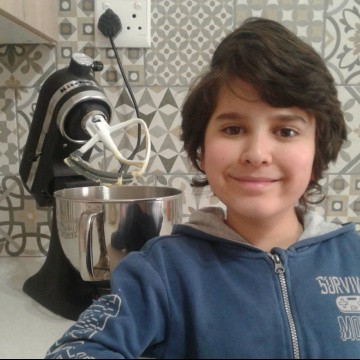 Clouds of Yumminess!
Crumpet batter:

1 cup Flour
2 Tblsp Sugar
1 Egg
2 tsp Butter, melted
1/2 cup Milk
2 tsp Baking powder
1/4 tsp Salt

In a stand mixer, beat eggs and sugar.
Whilst beating:
- Add milk.
- Add salt, baking powder and flour.
- Add butter.
Scrape down sides.

Drizzle oil into a non-stick pan on a medium heat.
Using a small ice-cream scoop, place two or three scoops of batter onto the pan at a time.
Cover with a lid.
Turn crumpets once.
Ready when both sides are golden.

Makes 12 small crumpets.

Caramelised fruit:
1 Stone fruit, thinly sliced (plum / nectarine / peach)
1 Tblsp Muscovado sugar
1 Tblsp Butter

Melt butter in a saucepan over a medium heat.
Arrange slices of fruit in the saucepan.
Sprinkle sugar over fruit.
Cover with lid for a few minutes.
Ready once sugar has melted and golden.

Serves 2.

Spoon caramelised fruit over crumpets.

Serve hot and enjoy!